Vehicle construction: secure bonding to new materials
The new acrylic adhesive tapes of the DuploCOLL-Range are the ideal solution, particularly for bonding to new plastics and coatings in the vehicle\\\'s interior and exterior...
For many reasons, the automobile industry is faced wi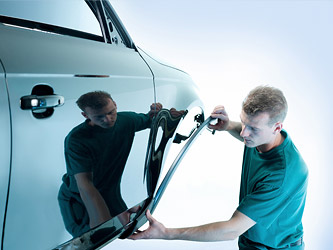 th the challenge of using increasingly high-performance materials. These include fibre-reinforced plastics. In different compositions, they are now already being used in attachments for exteriors and will in future also be used for bodywork applications. For the supplier this means recognising these trends at an early stage. As a result, the "Bonding Engineers" from Lohmann always precisely follow the current developments in the automobile industry and gear their products towards the new requirements. At present, this particularly includes the secure bonding to new materials such as fibre-reinforced plastics and new coatings. The manufacturers are continuously working on optimising the coatings in order for them to be scratch-resistant and dirt-repellent. The secure bonding to the different clear coat systems is, however, one of the biggest challenges for adhesive tapes. This is because chemical changes to the surfaces of coatings inevitably affect the adhesion of the bonded composite in automobile exteriors.
This is no problem for the new acrylic adhesive tapes DuploCOLL 20690, 21135 and 21224. They are the ideal solution, particularly for bonding to new plastics and coatings in the vehicle's interior and exterior and offer excellent performance both in the tack and the final bonding. Because the compressible and elastic foam ensures optimum adaptation of the adhesive tape to surfaces and compensates for different expansion coefficients in joints. Furthermore, the adhesive tapes maintain their excellent performance even under extreme stress such as degradation, weather and temperature influences. They are resistant to the effects of chemicals and solvents. A further plus point: a pre-treatment – even with low-energy materials – is not necessary in most cases as the manufacturer's processes are accelerated. The new adhesive tapes, for example, can be used for door covers, for the bonding of plastic, decorative and entrance sills. They are produced as spools, rollers and as die-cut parts that are individually tailored to the customer's wishes. In addition, Lohmann guarantees fast delivery times and enables short-term deliveries of high numbers of units across Europe. Thus the customer not only profits from the advantages of double-sided adhesive assembly tape, but also has access to the expertise and services of the "Bonding Engineers".